Security cameras help safeguard your loved ones, home, office, and property from intruders. Associated mobile apps provide 24/7 monitoring, with real-time updates and access to a wide range of features. These include:
Immediate Activity Alerts
Motion Detection
Daily Event Logs
Real-Time Data
Such tech can also provide much-needed peace of mind to users concerned with elder loved ones who may be isolated and away from family support systems during crises—such as the recent Coronavirus Disease 2019 (COVID-19) outbreak. Besides wellness checks, some cameras and apps provide two-way audio.
Since there are countless security camera apps available, we decided to break down some of the most popular for you, to help in your decision-making process. Nearly all security cameras can be categorized into Professionally Installed or Do-It-Yourself (DIY) models. The majority of associated mobile and smartphone applications consist of Proprietary or Third-Party brands—those designed to work with specific equipment, or interchangeable, respectively.
Since there are countless security camera apps available, we decided to break down some of the most popular for you.
Many also carry the tag "Powered by Alarm.com." This denotes tech and services provided by professionals, such as General Security. Alarm.com service providers ensure your cameras and corresponding apps are synced to work together. Renowned as a mark of excellence, Alarm.com was recognized at the 2019 Consumer Electronics Show (CES) with its prestigious Security Product of the Year award.
This useful guide lists many of the most popular Professional and DIY security camera apps available today, outlines pros and cons, shares customer reviews from Google Play and the Apple App Store, and much more.
DIY Security Camera Apps

Arlo is focused on basic home security rather than smart home components—a plus if that's your primary focus—though it does offer features such as live video streaming, DVR clips, and easy system arm and disarm capabilities. The Arlo Smart and Rich notification system has real-time alerts during mobile device lock mode, another advantage.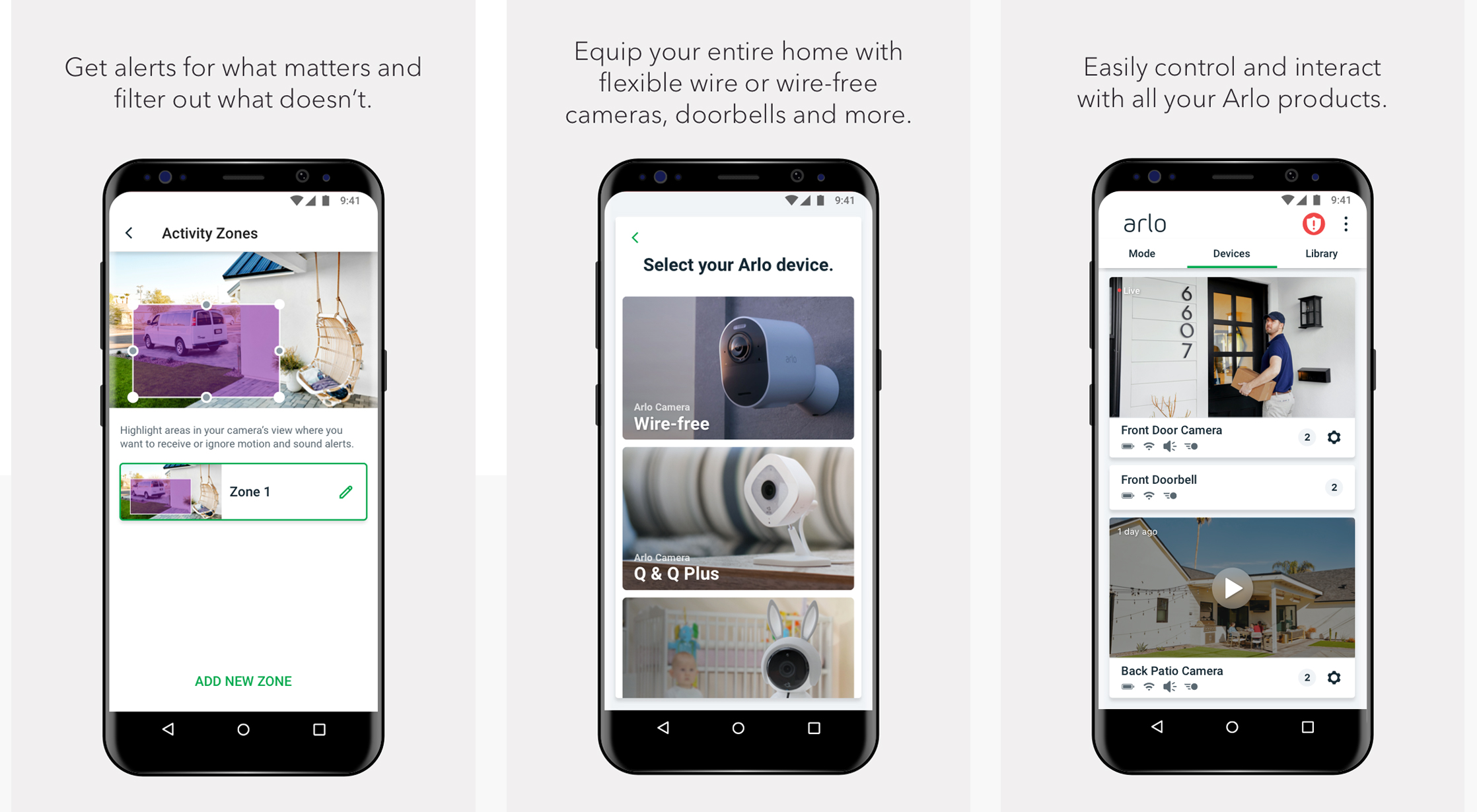 What Users Say

"Works very well most of the time. Captured video and camera viewing is available anywhere. Modes and rules are very flexible for activating motion detection and notifications from cameras. Updates often cause problems and I've had to uninstall and reinstall the app on a couple of occasions to get it to function properly after an update." —Zoltan Ori ****

"Delay between activity and start of recording causes things to get missed sometimes. So far this hasn't been critical, mostly animals. But if a break-in happens those few seconds could mean the difference of catching a clear view of the intruder."—Gary Jacobsen ***

iOS App Store
"This is a great compl[e]ment to an online security system. When an intruder breached our security system during a burglary, my five Arlo cameras turned on "Notification" to my iPhone and recorded the two burglary people. I immediately phoned the police (we were 600 miles away on vacation) and sent them the Arlo video clips. I also had the videos posted on several Facebook sites in the local area. Within 6 hours we had the names and addresses of the perps and sent the info to the local police. When the police phoned the burglars with the good news, the kids turned themselves and the stolen goods into the police station." —Buck&Chuck *****


The only issue I have with it is when my camera picks up the motion detection, it takes my video a few minutes to load before I can view it. But other than that I really enjoy arlo!"—kels p. ****


Pros
Can Be Used Without Smart Home Features
Cons
App Sometimes Needs To Re-Install After Updates
Reports Of Low Visual Appeal
---
App includes real-time alerts and video feed activated during detected movements, such as children arriving home from school. A chat component facilitates easy customer support via in-app communication with a Protect America representative—yet access is included only with the app's pricier cellular and broadband monitoring services.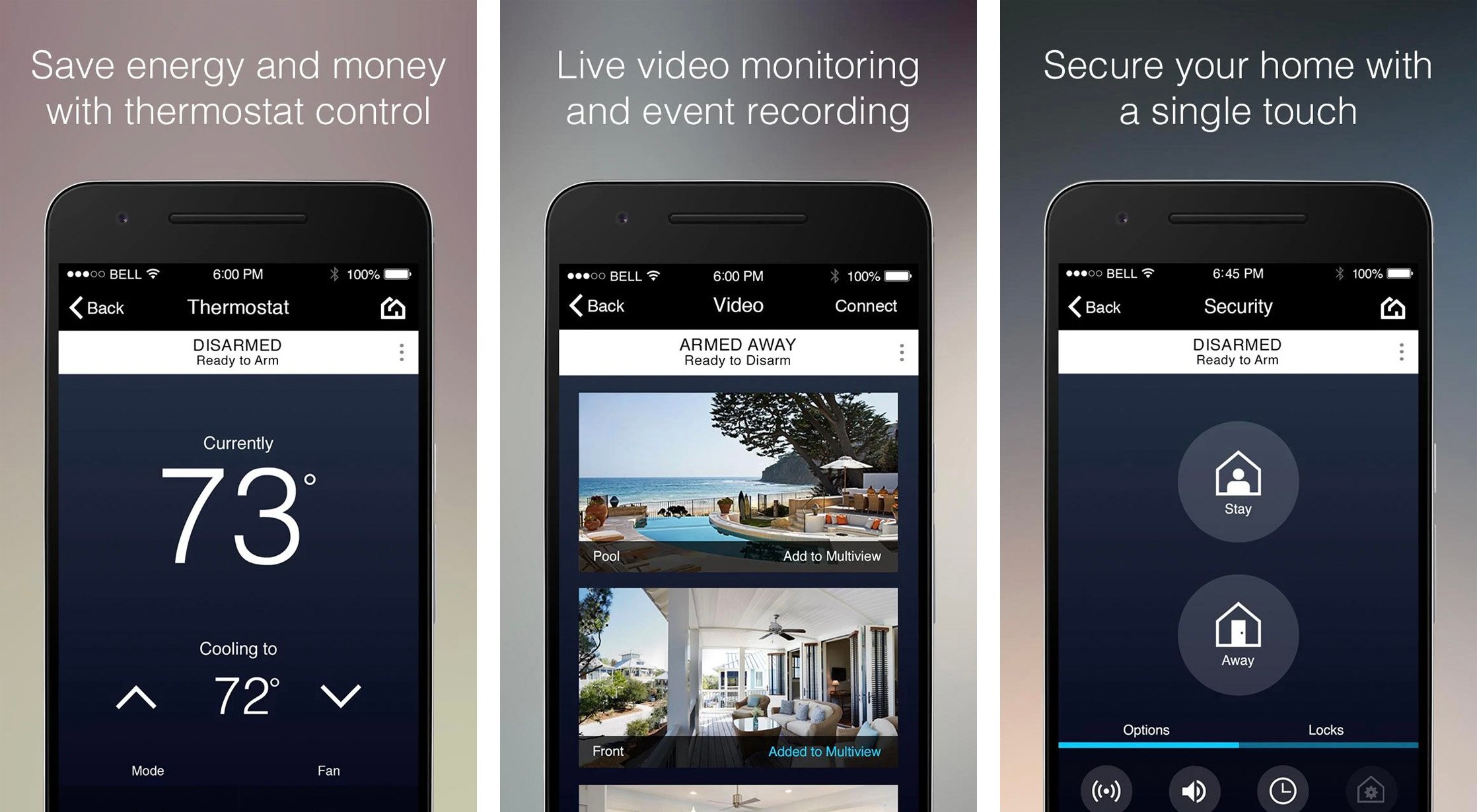 What Users Say
Google Play
"Great App, it works well[.] I can arm and unarm the alarm from anywhere. It also sends me notification when it's turned on or off. Most times if it[']s not working, it[']s because it needs to be updated." —Tameca Johnson *****
"System does not work at all with my phone app, always tells me there are open sensors when there are none. Tells me the system is offline and can not connect to the internet. I've tried reloading the app numerous times but that did nothing to fix the problem. Still unable to arm/disarm my house with my phone app."
—Michael Bishop *

iOS App Store
"I mainly use the app to arm and disarm and to connect with my indoor camera. I have been impressed so far with the speed of the protect America app in terms of interacting with my system. There was a substantial lag with my old previous provider that made using my camera pointless at times." —Excint *****
"I use complicated passwords that iPhone allows me to input from keychain or my password app. However the last update does not integrate with either (no option to use them) and I can't even paste into the field from another app. I guess they're also force password updates without telling people because I couldn't log in until I reset it online." —Trik_sea **

Pros
Easy Access & Setup
Z-Wave Monitoring
Cons
Log-In Errors
Only Available With More Expensive Monitoring Packages
Contract Required For Usage
---
A key fob can remotely arm/disarm your system. It's a budget-friendly choice if you don't want to pay for the app. However, you must be in close proximity to your home security system. The app can connect to other components, such as your carbon monoxide monitor, smoke detectors, and thermostats. It's also compatible with third-party devices, such as Amazon Alexa, Google Home, and Nest.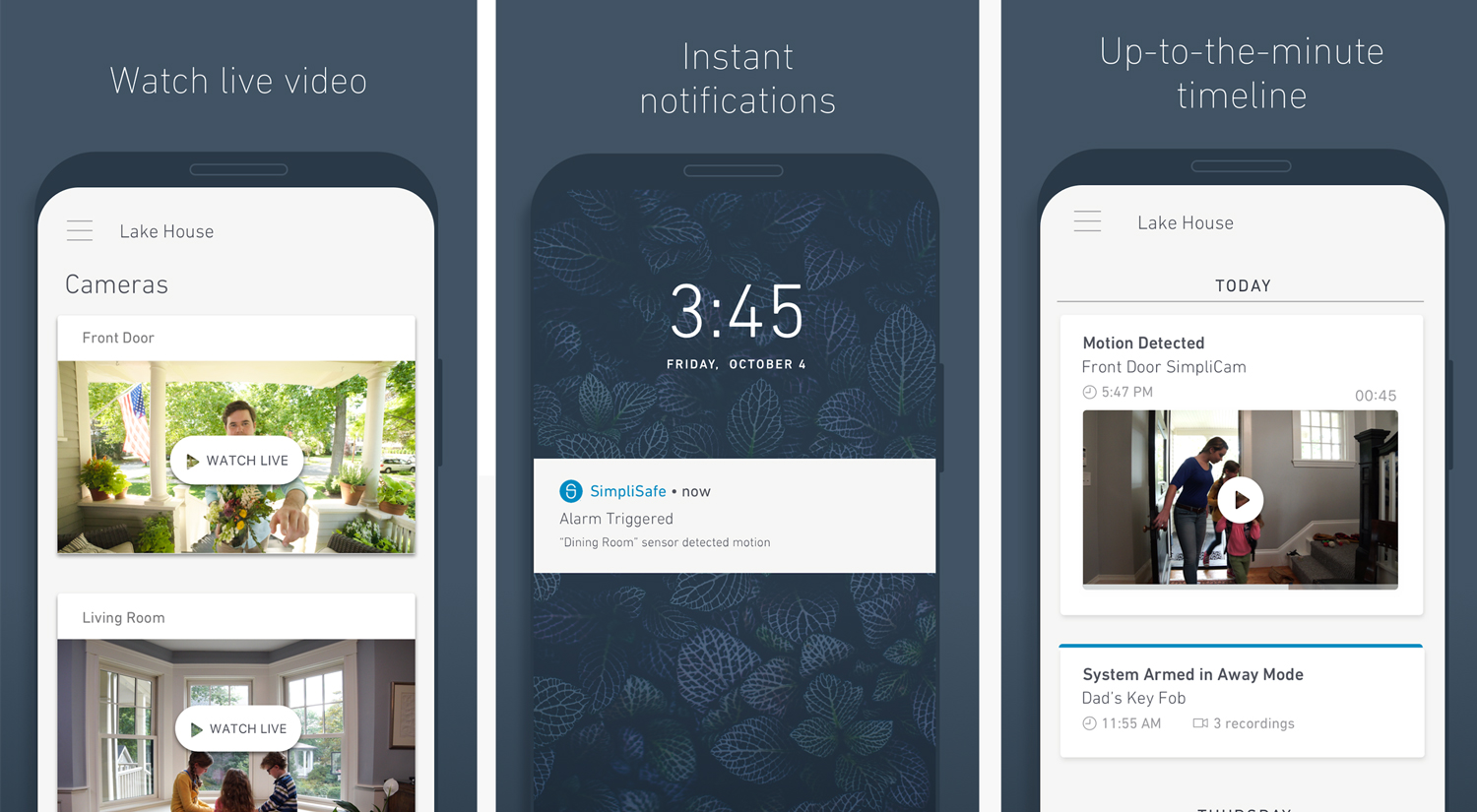 What Users Say
Google Play
"The app works a[s] described. It is very easy to use and makes it very conven[ien]t to turn on/off our system and see any camera alerts. I found that it is easier to use the app to modify or customize some of the features using the app that is also available when using it on windows computers."—Eliot Persell *****

"This app has always been slow and at times completely unresponsive, but lately it has a new issue. When I open it, it shows an error message saying it can't contact the base and offers to either 'cancel' or 'retry'. I have to press anywhere outside the error message box to get it to go away. After that the app shows the correct info/status." —Sam Owens *

iOS App Store
"This app and the system does everything I need it to do. Almost. Having come from an electronics background and being very familiar with security system[s], SS has done an excellent job in making it simple and reliable."
—Tommy NCL *****
"I am having serious issues with the SimpliSafe app since I upgraded my System. Although my camera is installed, the app is saying it is not; and, I keep getting kicked out of it. I hope whatever is going on can be resolved soon."
—Beauford76 **

Pros
Smart Home & Third-Party Device Compatibility
Includes Home Safety Alerts
Cons
Key Fob Feature Has Limited Functionality
Intermittent Glitches With Alerts & Push Notifications
Upgraded Version Can Be Costly
---
Only Reolink manufactured cameras work with this app. It could still be the right choice if your needs are within its best features. These include motion detection and real-time video feeds up to 16 channels. Cloud storage of recorded videos provides easy access and playback. Unlike some of its competitors, the app's alert frequency can be adjusted by personal preference.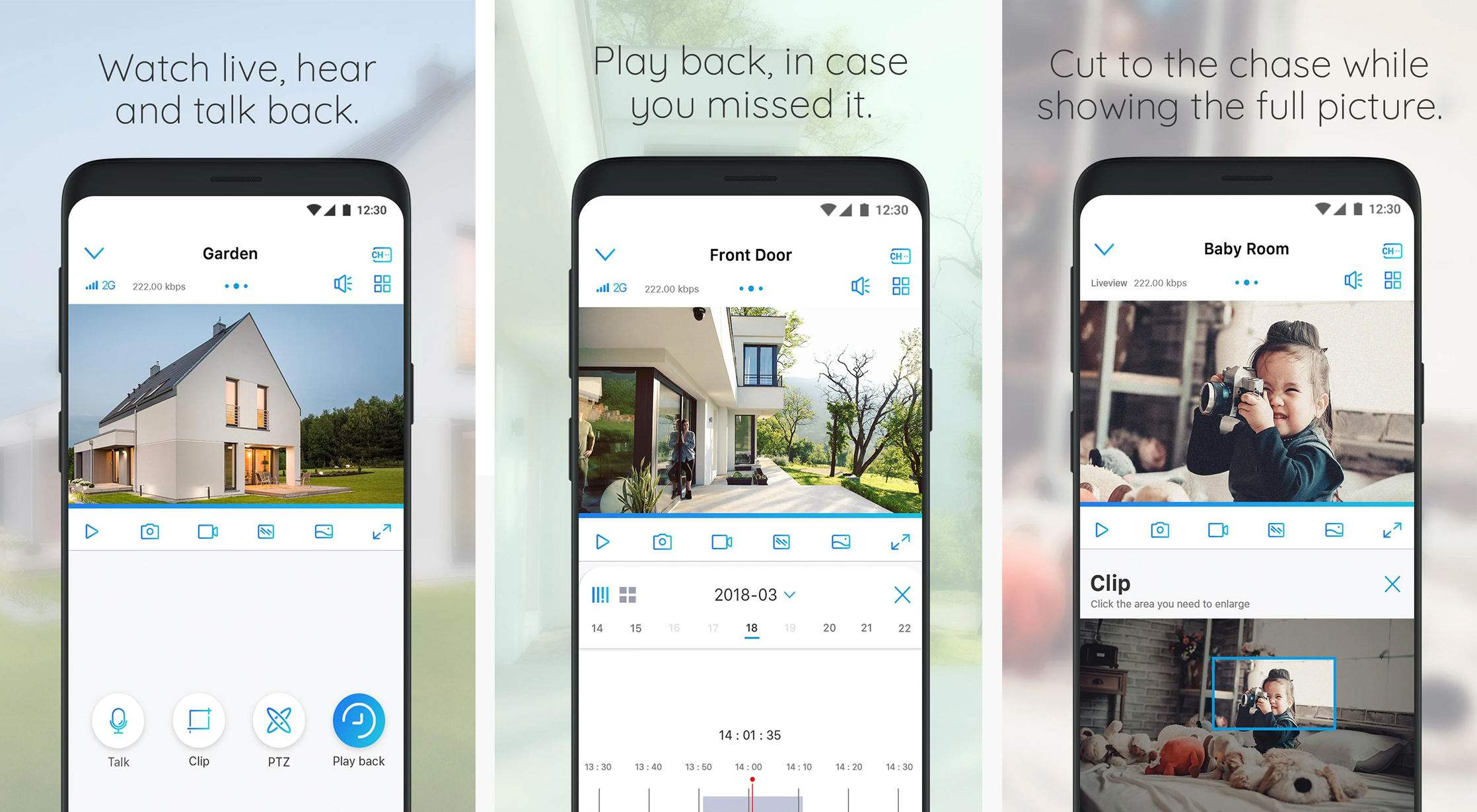 What Users Say
Google Play
"The last update made the app freeze and the camera fail. It took several attempts to add it back and get it working right, but it still won't scan the qr code on the device anymore. After updating today, It won't scan and refuses to connect with wi-fi or data. Update: 1/24 got it working now, turned up brightness on phone screen to scan. Like new app features."—Linda Hansen ****

"Notifications have never been prompt, but since the last update they are hours delayed at times. No matter how close to the router the camera is, streaming and playback is completely unusable in "clear" HD. 1 out of 4 cameras cease to function once the temperature reaches freezing point."—Jon *

iOS App Store
"I have had this app and cameras for over two years and they haven't failed me. So much so I upgraded and got the New 4k wired system. Wired or wireless cameras the app works great with. No problem with playback or any of the features the app has." —Something Nice! *****

"This app is decent but it's really not great. I initially liked it a lot but the settings never seem to match what is happening on my app. I have it set to record for 2 mins after a motion triggers yet it records 30 seconds...this app has potential but there are definitely some things that need to be fixed first." —No longer a fan 12345 **


Pros
Easy Setup & Configuration
User-Friendly
Five- or Four-Megapixel High-Definition Viewing
Free With Any Security Camera Package Purchase
Cons
Not Compatible With Other Security Camera Systems
---
Established in 2018, Cove and its accompanying app are industry newcomers. It includes the standard system arm/disarm and user account edits and adjustments. Cove's InstaText system provides mobile alerts for system disarmament or alarm sounding. An automated system check provides mobile alerts during a power outage or when cameras are offline. At $10 more than the basic offering, the app is standard with the Cove Plus Security Monitoring Plan.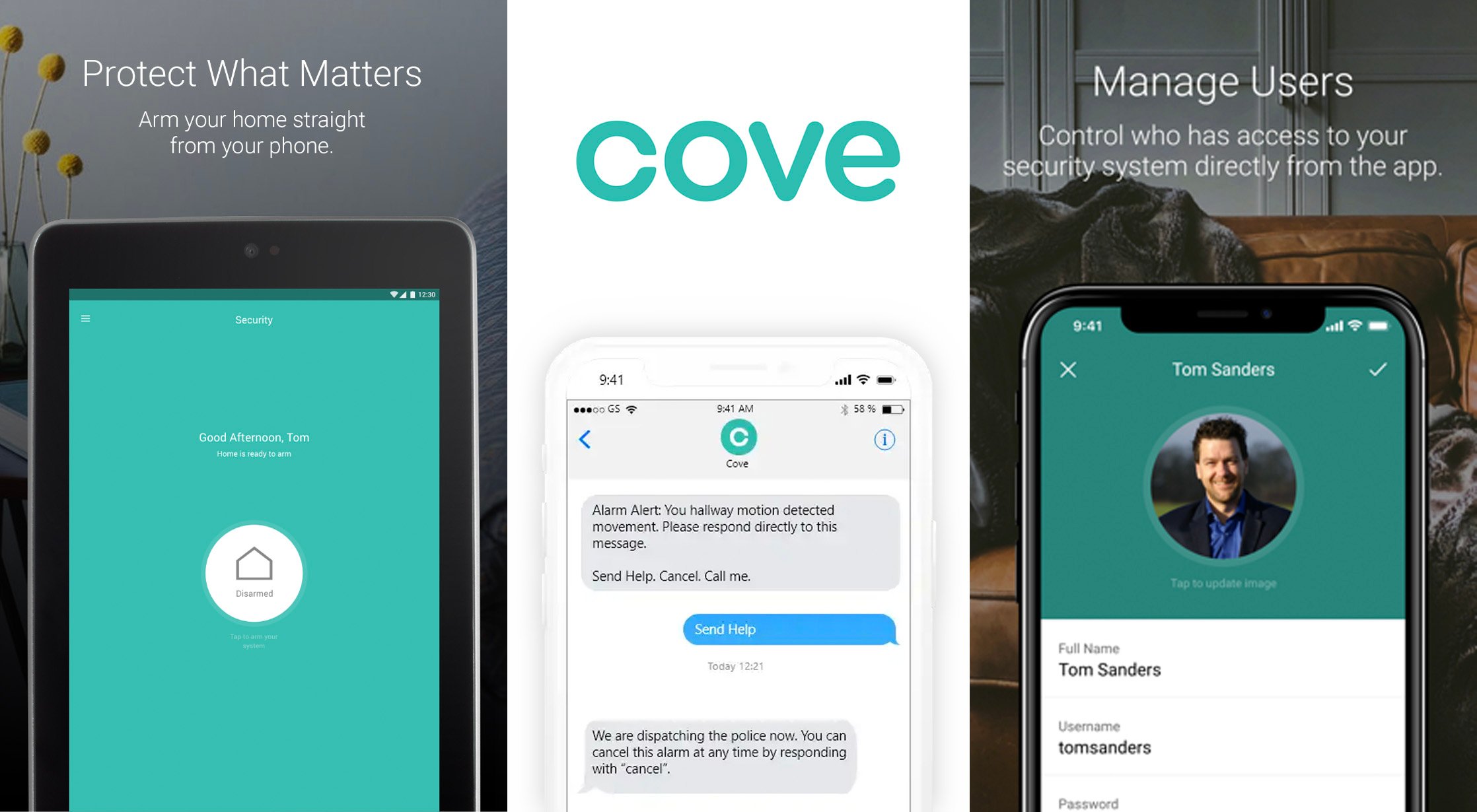 What Users Say
Google Play
"EDIT: Since I last posted. The app has been working better. I can arm and disarm the alarm from my phone. The only issue I have is with user setup. The panel and app seem to be at odds with each other. I set up 3 users on the panel but they don't register on the app. I figure this will get sorted in short order. Cove seems very on top of things." —Sanctuary 6284 ***

"I cannot login to the app. I have double checked my username and password, but I keep getting a message that either the username or password is incorrect. While the system itself seems good, it's not going to be too helpful if I'm unable to arm and disarm it from the app because it won't let me login.—Liz Mihalov *

iOS App Store
The Cove system seems like a pretty decent home security choice with a company that backs up their product. The app works pretty good, but it is a little buggy at times and I find that it works better on my iPad than my iPhone, which isn't really what you want. —Patrickster ***

"Can't even sign into the app, it asks for a user name but I was never able to create one. I went on my PC and logged in and saw what it said my user name was so I tried that in the app and still no good...once I get the app nailed down all will be good."—Jb11228 *


Pros
Easy To Use For DIY Installs
InstaText Alerts
Cons
Not Available With Basic Monitoring Plan
---

Professional Security Camera Apps
With both Professional and DIY options, this app features a video analytics service that alerts any motion detection on your property through artificial intelligence technology. It can differentiate whether such movement is made by an animal, vehicle or person. Smart video alert facilitates if this movement has violated a virtual pre-set off-limits area known as geo-fencing.
Voice recognition is compatible with Siri Voice Assistant, Skill for Alexa, or Google Home—enabling commands through customized voice shortcuts and on-the-go mobile device control.
Smart Signal technology relays information to General Security's monitoring station from mobile devices.
A panic button notifies your professional monitoring company for help, also verifying whether there is a true emergency or false alarm. If the former, first responders will be alerted.
Advanced encryption is necessary due to hacking, especially for wireless camera systems. Associated security professionals supporting Alarm.com technology can assist.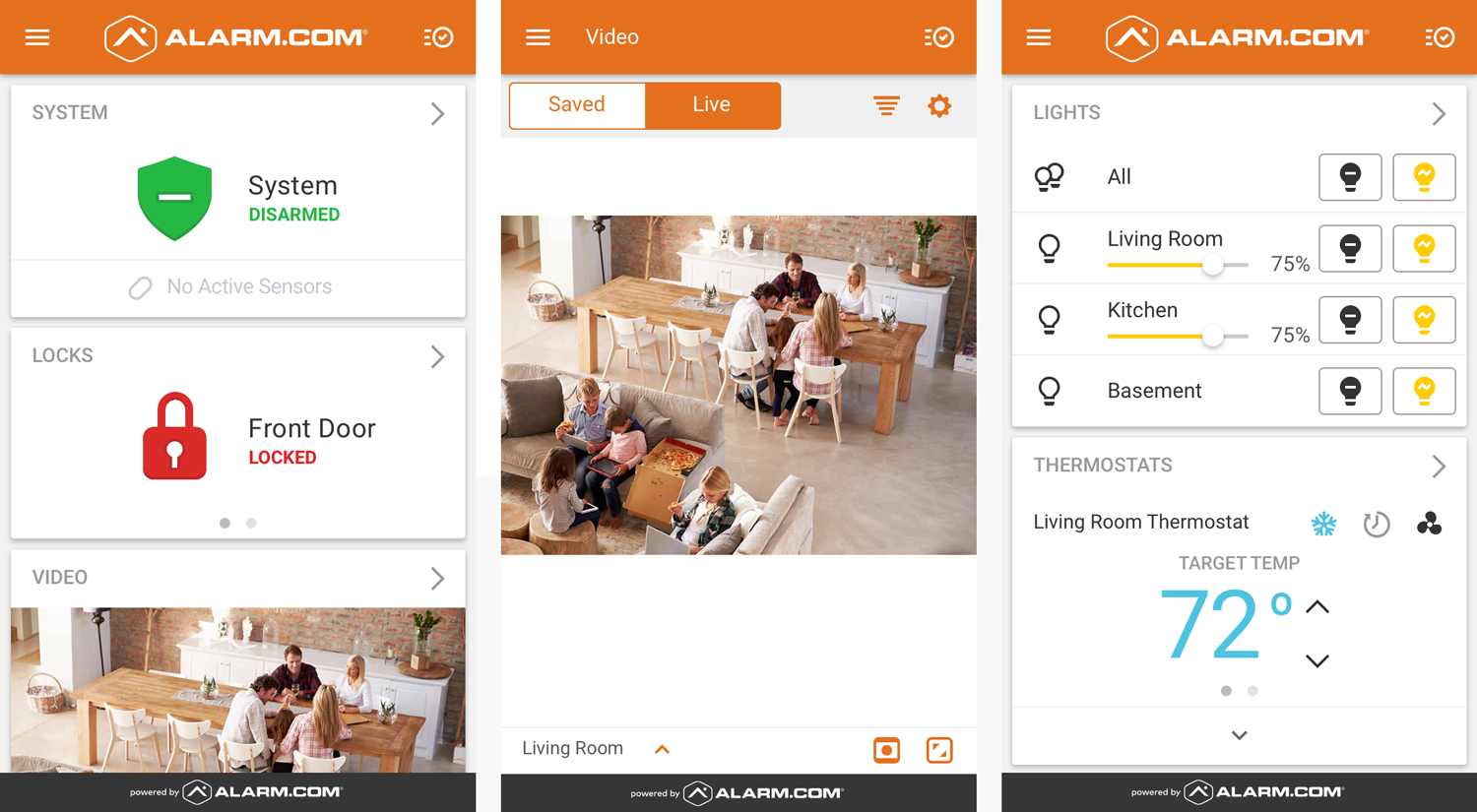 What Users Say
Google Play
"I really like that I can see my security system, smart home devices, and video cameras in one place! The app is really easy to use and well designed! They always seem to push out updates just in the nick of time."—Geoff987 *****

"The features that are available work pretty well. However there are a few features that are not available...and should be. You cannot view multiple cameras at once, like you can with nest. Really wish that was possible...maybe one day."—ashwellis ***

iOS App Store
"I really like that i can see my security system smart home devices, and video cameras in one place! The app is really easy to use and well designed! They always seem to push out updates just in the nick of time."—Geoff987 *****

"The app has too many notification options it almost confusing. Also, for the videos, there is no way to delete all videos all at once. You have to delete them one by one."—kaysob ***


Pros
Real-Time Security Camera Data Feed
Can Be White-Labeled By Stand-Alone Vendors
Voice Recognition Compatibility With Google, Alexa & Siri
Cons
Monitoring Services Must Be Purchased Separately
Can Be Buggy; Sometimes Doesn't Work With Doorbell Camera
---
Standard features include live feeds and easy access, one-touch dashboard. Free, 24-hour cloud storage facilitates on-demand video clip access.

Honeywell Home doesn't offer professional monitoring services, but this can be added through an Alarm.com service provider, such as General Security.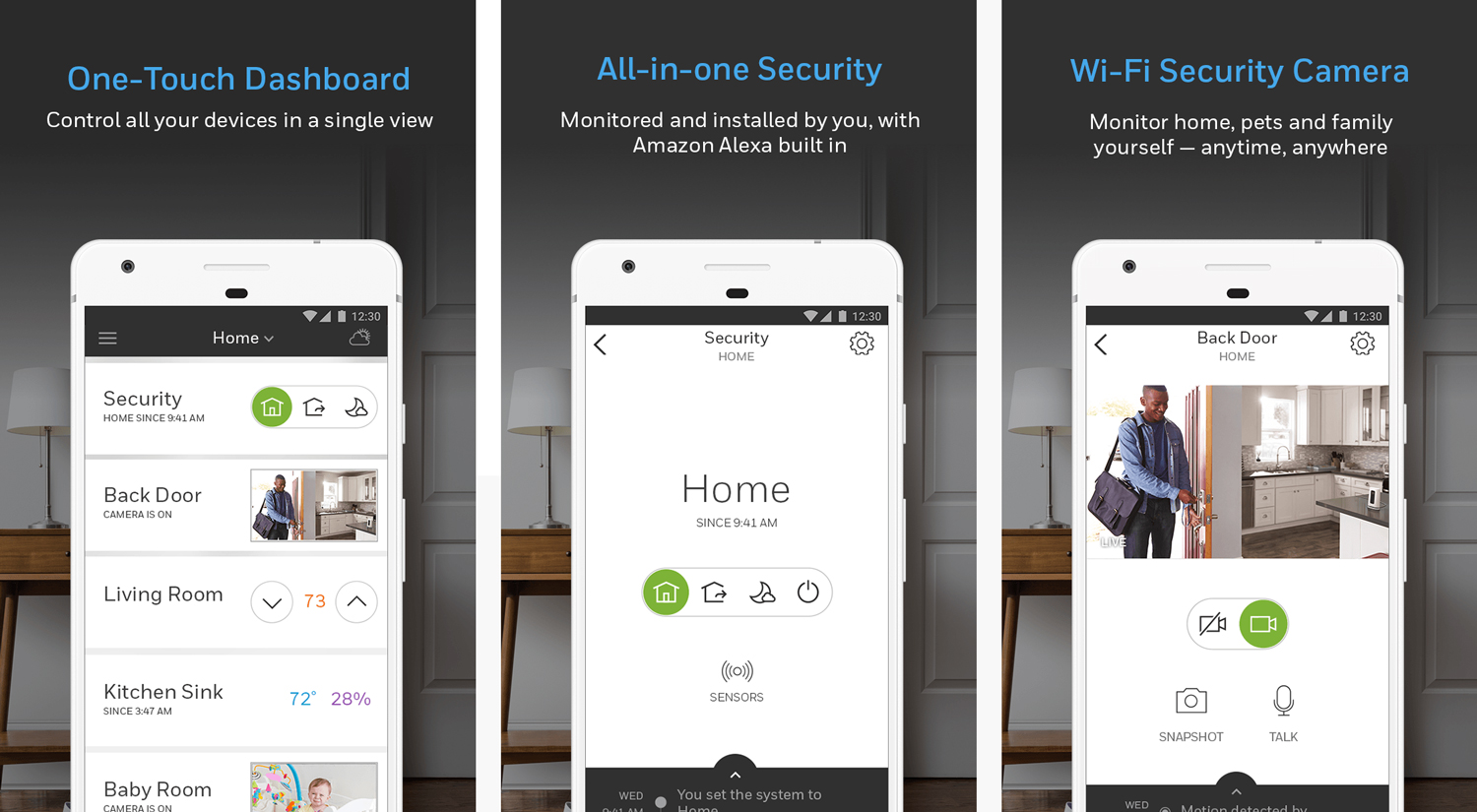 What Users Say
Google Play
"It's been working fine until most recent update beginning of February 2020. Couldn't install so I tried uninstalling and now it won't install again. From a Pixel 3 XL Edit: app was able to be installed again. Everything works fine now."—Michael Kunisaki *****

"I bought C2 Wi-Fi Security Camera. Unable to pair with mobile. The Total connect comfort application gives a server error when I try to connect a camera, but it works with the heating control I use. The blue light flashes, but the app in the mobile does not find the camera but the mobile sees it on Wifi devices. I tried it on several mobiles, without success."—Vladimír Marat *

iOS App Store
"I have been using this app on my iPad for over a year with no issues. New update comes out yesterday and I tried to download and it kept stopping so I deleted the original app and tried a new download but it keeps stopping...Is there a problem with downloading to iPad?"—FL MB **

"Have had two units for a couple of years but the live stream never worked. I wrote it off based on the slow uplink speed even though I knew the speed was well with in the capability of supporting a live feed. Today I opened the app and noticed live stream was actually working! Kudos Honeywell. Job well done."—Yogawarrior *****


Pros
24 Hours Of Free Cloud Video Storage
Cons
Monitoring Services Require Separate Purchase
iPad Users Report Trouble With App Download
---
Vivint Smart Home doesn't require an upgraded access package. It's included with all monitoring plans for Vivint customers. Alert customizations and access to real-time security camera feeds are standard features. Twenty-second clips of recorded video, 30 days of stored video, and an itemized daily activity report round out this app.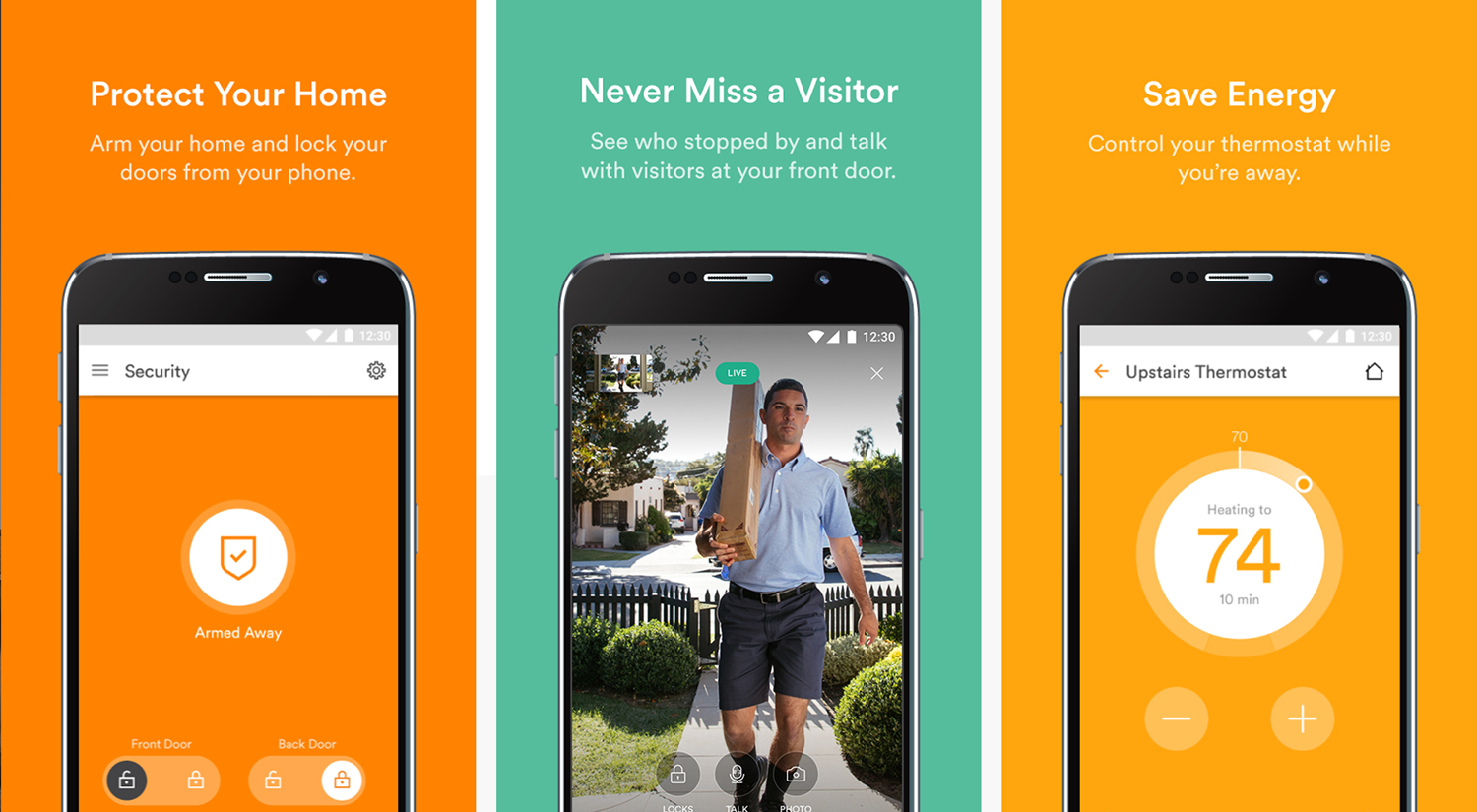 What Users Say
Google Play
"Works well for me. I can check on my home using the cameras and and turn some lights on and off, as well as turn the alarm on and off. I rarely have connection problems."
—Greg Maislin *****
"The app worked great for a while but now I can't access the live feed on my cameras. I have rebooted and reinstalled but it still won't work. Having access to the live feed was one of the main reason I got this system. I have messaged the developers...fingers crossed they have a solution."
—Kerry Beauvais **
iOS App Store
"I love this app. It is always working no lag time or glitches. The options that are available are very helpful and there are dozens to choose from...I think the best option on the app is the setting to arm and disarm the system automatically on specific days and specific times." —PennyLaneCook *****

"Even when turning off completely in settings it still keeps going off. There has to be a convenient way to shut it down as opposed to having to go into all the settings and shutting everyone's phone down to its warnings."—psalm4hm *

Pros
Customized Notifications
No Extra Charge For App Access
Thirty Days Of Stored Video
Cons
App Only Available To Vivint Customers
Higher Price Than Competitors
---
The app's two-way audio communication synced with Amazon Alexa and Siri removes manual login. Security camera information and system arm/disarm can be accessed on command. Access is provided only through ADT's higher-priced security packages.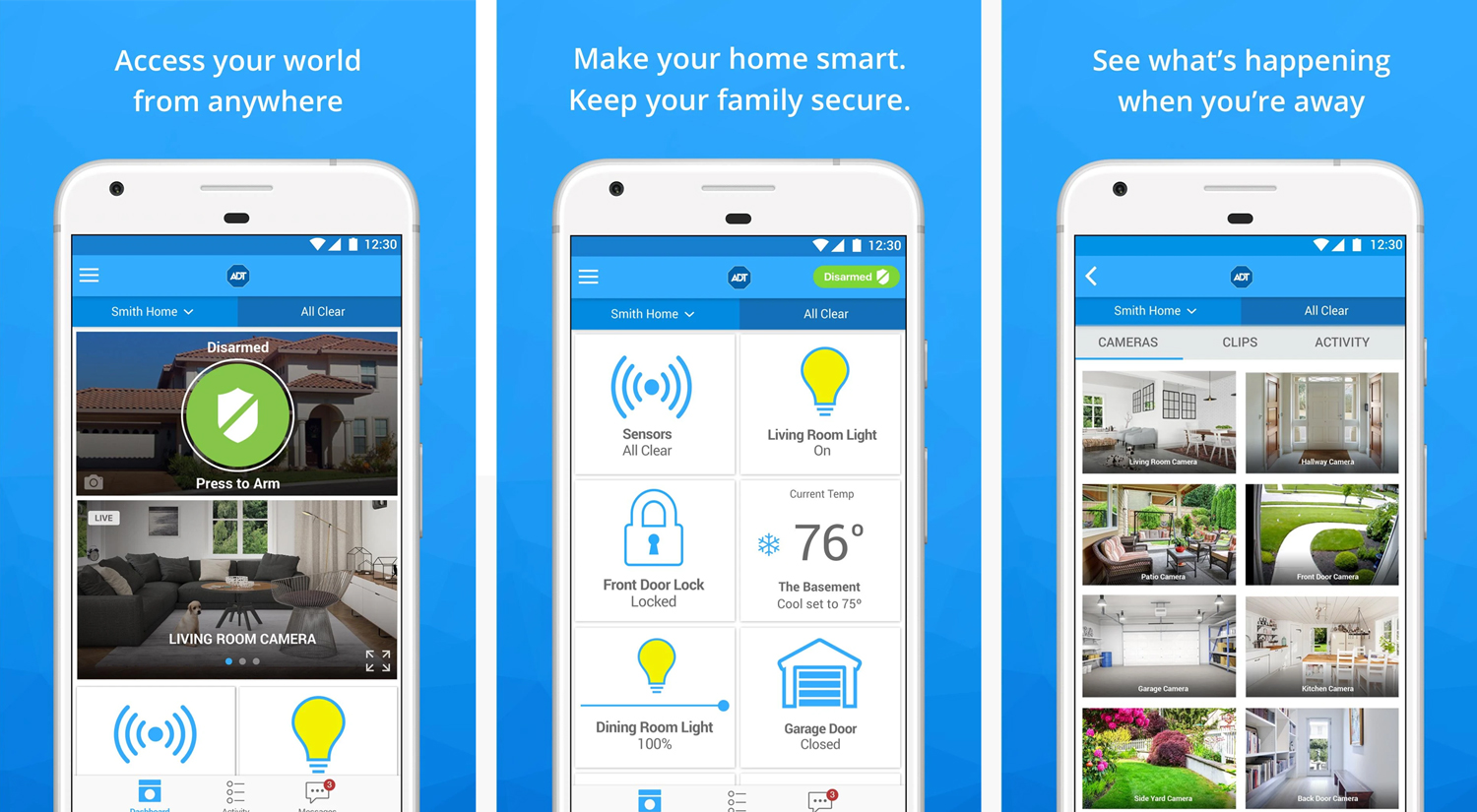 What Users Say
Google Play
"I love this app. It simplifies my life when I get home from grocery store and it's enough of a struggle trying to get into the house and get to the panel while hands are full of groceries. Just pull up in the driveway and deactivate it through the app. And if not sure if I armed the house when I left, I can check through the app to see if activated or not."—Edward Morel *****

"Please restore the Home View feature to the mobile app. We rely on it for troubleshooting devices, checking state, etc. We've been ADT customers since 1993, and generally happy with the system and the app, although we have a couple of devices the intermittently report issues, although battery is fine, then issue self-clears."—DK Rene **

iOS App Store
"Seriously, if we can figure out how to use this, most people can. Easy to navigate, laid out well, the important things are right there. Sure, I have to go to the website to do a few more technical things like setting automatic controls, but that's okay because it would just crowd the app and make it more cumbersome to use." —Jillmeister *****

"App has always been reliable but the new release no longer has home view, which was very useful. It's still on the website tho. Please brin[g] back in the app! The ux in absence of home view is messy." —thatkidduke *
Pros

Voice Recognition
Alexa & Siri Compatibility
Cons
Not Available On Some Of ADT's Lower-Priced Packages
Home View Feature Discontinued
---
Live security camera video, still images and record/playback viewing are the main features. Security and wellness alerts can be remotely managed through custom triggers.

A daily security camera activity event log provides updated information. Users can also manage specific access codes.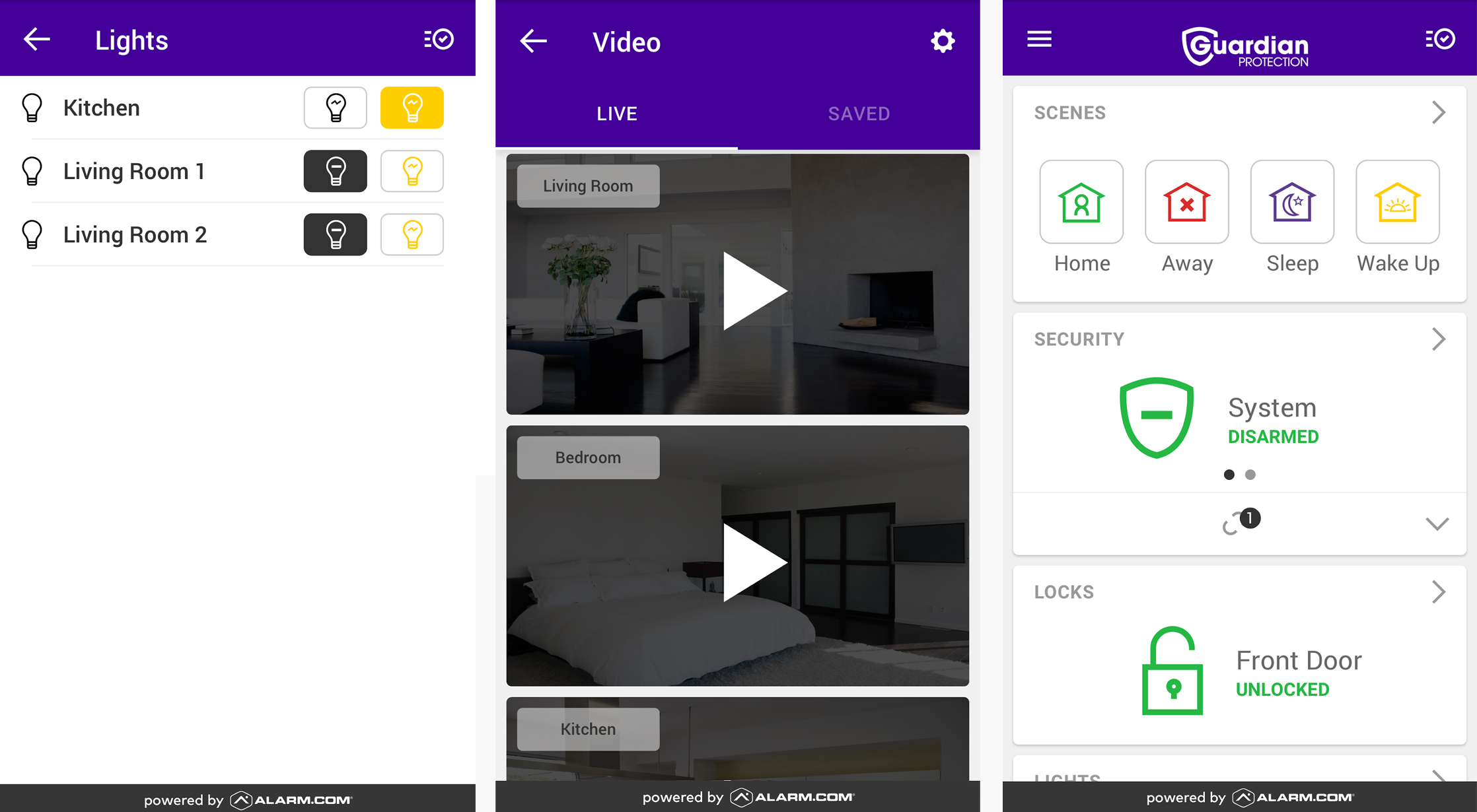 What Users Say
Google Play
"Love Guardian and the app. I understand that if I change anything in my house (wifi password, router, move furniture, etc.) that it could affect things, but as long as I have a few minutes to spare, customer service is always able to help."—Heather Crawford *****

"App does not work like it should, app claims it is not connected with phones on account even though I can use some of the app with the alarm system, app claims there are problems but doesn't allow you to fix those problems within the app, customer service's only suggested was reinstalling app and that has not helped."—Wayne Elsey *

iOS App Store
"Occasionally have a little delay but that could be my own Internet. Recently we had a significant outage for several hours with no notification that the app was down. That was very unsettling. But generally the app has worked well most of the time." —CarolMTexas ****

"The 3D Touch, Today Widget and Siri shortcuts are awesome! The developers have constantly improved the app over time. Thank you!"—Wlorenzo *****

Pros
Facilitates Custom Triggers For Remote Alerts
Mobile App Access Available For All Packages
Cons

Camera/App Connectivity Issues Have Been Reported
---

Brinks (Powered by Alarm.com)
Brinks cameras are compatible with and outsourced to others, such as Nest and Alarm.com. This facilitates accompanying apps and professional monitoring services providers, such as General Security.

Its monitoring service features the ASAPer chat room. This is created through a user-generated list. It provides an alert less than 60 seconds after an alarm is sounded. This includes family members, friends, neighbors, or your professional monitoring company. First responders can also be reached.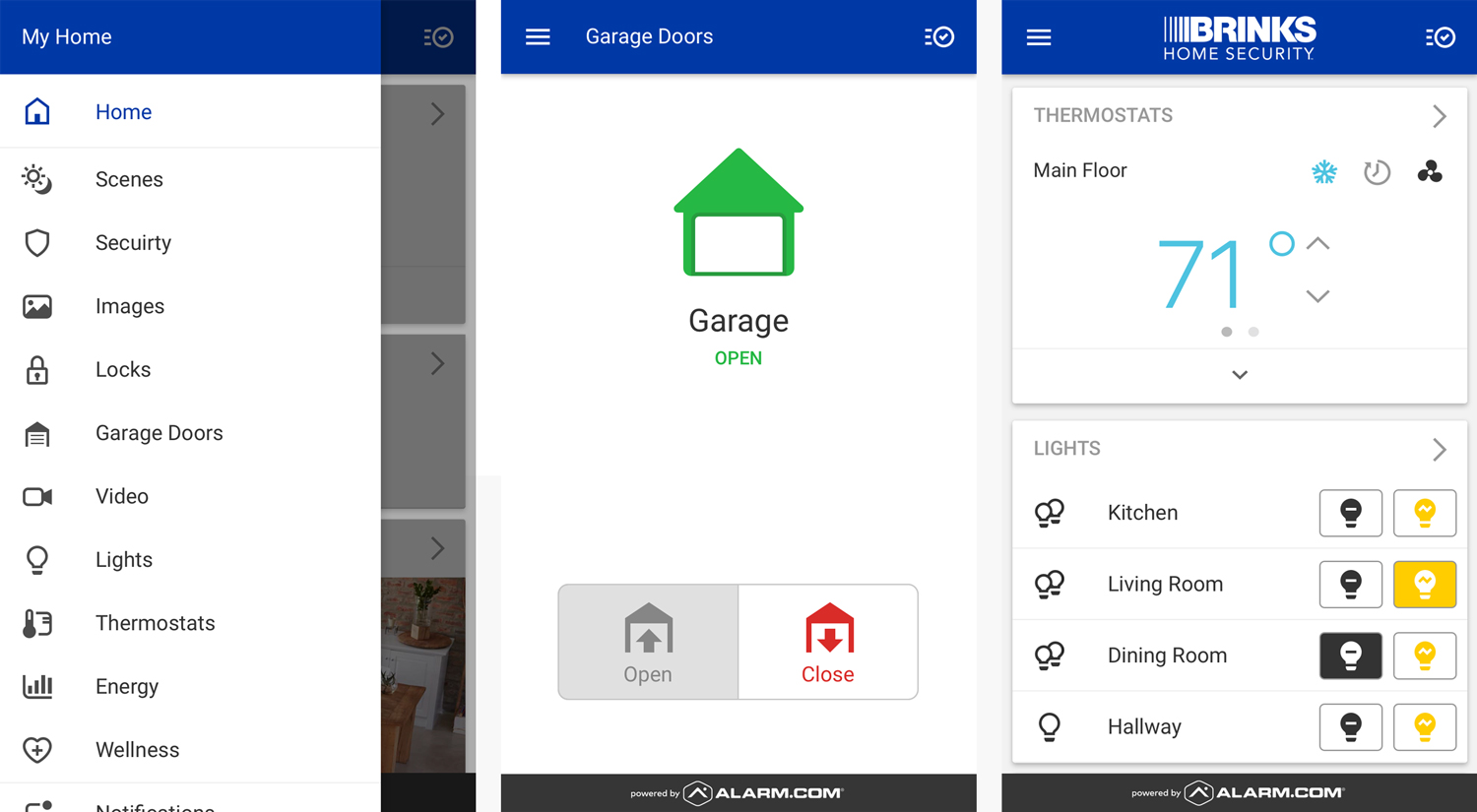 What Users Say
Google Play
"I really love the accessibility this app provides. It makes securing/monitoring my home so much easier. The only suggestion i have is the ability to modify the length of time you have to disarm the system once triggered before the alarm goes off."—Quentin C *****

"Received email on Dec. 23rd, 2019, stating that they've updated the app for this and that, per Google Play app was last updated on July 30, 2019. Would be nice if everyone was on the same page. Install tech crossed wires and shorted out battery back up was finally fixed after 4 service calls. Now if I could the battery backup to actually work for when I lose power…"—Daniel Brining*

iOS App Store
"I am on iOS 12 with an iPhone 8. The app works flawlessly for me. Arm/Disarm works perfectly. I can control my integrated Z-wave devices in the app."—Faster18wheeler *****

"App is great for arming and disarming system. The video only goes to a certain point each month then doesn't update clips." —mimi2ali ***

Pros
White-Labeled Through Nest & Alarm.com
ASAPer Chat Room Feature
Cons

ASAPer Only Available Through Home Complete or Home Complete With Video
---

Frontpoint (Powered by Alarm.com)
Users note this app's recently updated interface. It utilizes Alarm.com and implements its own customization elements. This includes real-time texting and push notification frequency.
DIYers will appreciate that security camera installation and settings can be automated from the app.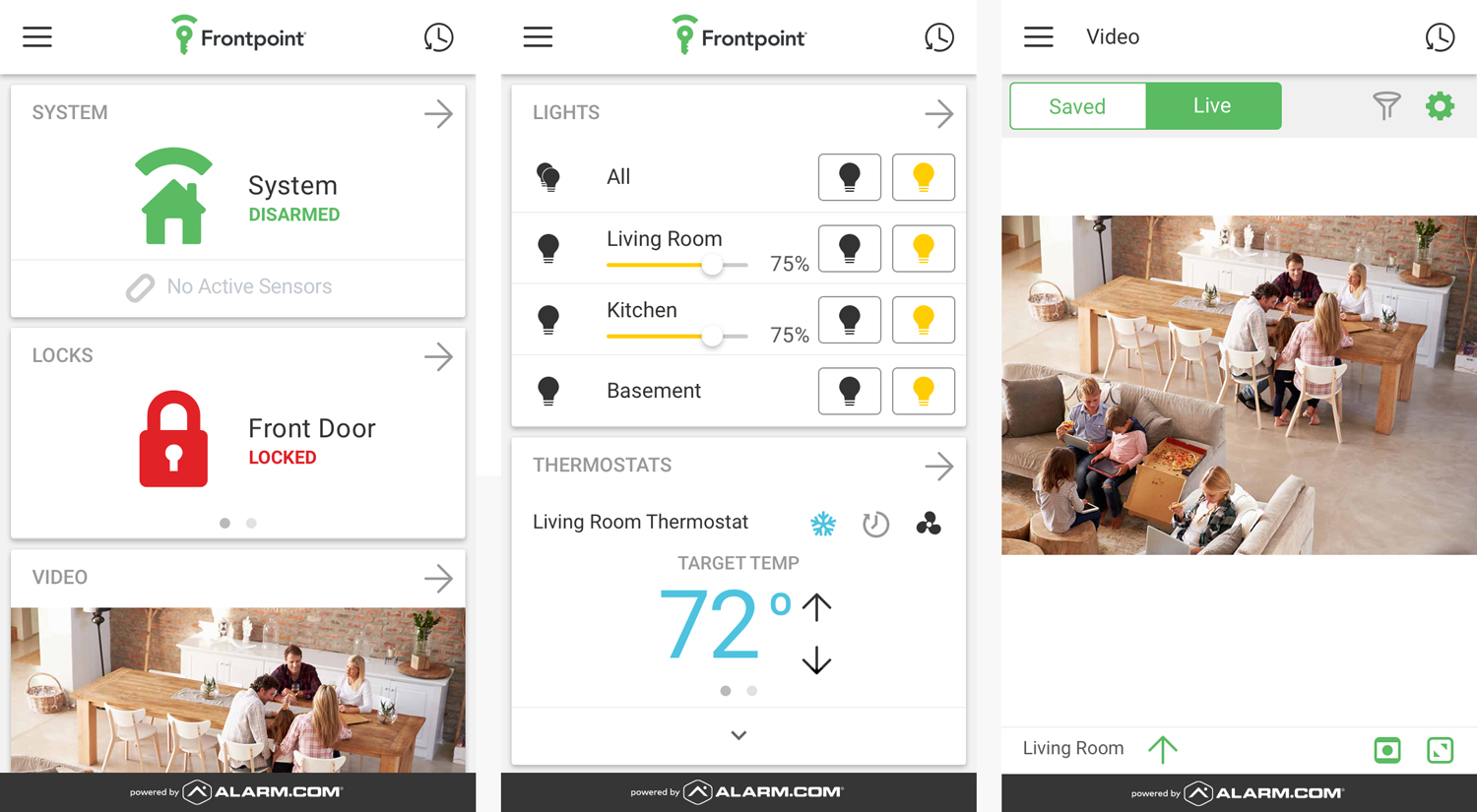 What Users Say
Google Play
"App works great, customer service excellent. I am not sure of the reasons for some of the 1-star reviews. Can't delete video? Of course you can? Can only be used as a weather app? Weather is the one thing I haven't been able to find on the app, but everything else works perfectly."—Sean Donnelly*****

"The app cont[r]ols the arming and disarming options of the hub but the volume and LED brightness controls don't work on my phone. They work on my wive's phone even though it's the exact same model (LG G6). I've tried uninstalling/reinstalling and every setting there is. It won't even let me send feedback to the company. The only reason I gave it 3 stars is because I can arm and disarm the system." —Ryan Asker ***
iOS App Store
"Frontpoint was a wonderful choice for me. I have great peace of mind without a huge blow to my budget. I love the App! I installed it myself in minutes. It was very easy to install. It works great."—Melody A M *****

"Using your app I would like to be able to see who and when my system was disarmed and armed. I can readily see this information when using a computer but not when I access the app on my phone."—Afowlr2 ****

Pros
System Can Be Installed Using In-App Guidance
Intuitive Interface
Cons
Must Purchase Paid Monitoring Plan

Deciding The Best
Whether you're looking to have a professional security camera installed, or would rather go DIY, choosing the best mobile app is as important as the camera itself.

Contact us today for assistance on which security cameras and accompanying apps are best for your needs and budget.