Editor's Note: This blog was originally published in June 2020 and has been revised to reflect industry updates.
When safeguarding your property and loved ones, motion detection with accompanying video analytics and smart geofencing provides another level of advanced protection.
Motion detection via Alarm.com's smart home security system app offers the added convenience of 24/7 home security through your smartphone. This technology, and Central Station Monitoring, help control emergency situations, deliver real-time alerts, and inform proper authorities.
When placed appropriately, security cameras with smart motion detection can reduce false notifications and alerts, whether you're home or away.

Below is a useful summary of this technology's benefits, compatible security cameras, additional video analytics, and more.
Motion Detection Benefits
A component of security cameras, motion detectors activate recording when movement is identified. This eliminates hours of unusable, non-applicable video consuming large amounts of memory and storage. It also improves battery life and conserves energy. This occurs whether you're home, or away.

Motion detection also recognizes security camera-scene activities through analysis differentiation—called pixel matching or frame referencing. This detects images that don't match previously programmed camera settings—including possible intruders.

This is also useful in residential and commercial settings, such as retail stores, healthcare facilities, and supermarkets. Alarm.com Business Activity Analytics can count and manage occupants, conduct crowd control, and monitor queues. Customer traffic and marketing analytics can be measured through monthly or weekly reports.



Video Analytics Technology
Video analytics offer an additional advanced, software-driven layer to security camera motion detection. The system is smart enough to differentiate between images of animals, humans, or vehicles, while offering data on what should be recorded or ignored. This prevents false notifications triggered by loud noises or strong weather, and also determines movement direction and activity duration.

User-controlled tripwires and activity zones trigger alerts, such as indoor/outdoor lights. These can be incorporated through video management software or CCTV systems with a network video recorder (NVR).

Consider next-level protection with Alarm.com Perimeter Guard for smart alerts and geofencing. When using compatible security cameras, loud sounds and blaring, red LED lights activate upon intrusion or tripwire breaches.
Best Target Detection Placement
For best results, security cameras should be installed in a location that can capture side-by-side, view-field movements. Cameras should be placed away from windows to avoid direct sunlight. If not, position it to one side rather than directly opposite windows. This helps prevent inadvertent detection and provides a clearer field of view.
Adjusting camera motion settings is paramount for optimal detection. This requires managing sensitivity levels, camera repositioning, or both. It's best to avoid areas including trees or other foliage falsely triggering notifications.
Video motion detection (VMD) technology captures movement in the camera's view and can be customized by size, location, sensitivity, and target to reduce false positives. You can either program this yourself or enlist a reputable Alarm.com service provider such as General Security.
Alarm.com-Branded Cameras
Through General Security
General Security supplies comprehensive smart security cameras equipped with Alarm.com motion detection and professionally supported video analytics and monitoring.

Consider the following indoor, outdoor, and doorbell cameras:



Indoor/Outdoor Turret Camera 1080P
This high-performance, optimized, fixed turret camera boasts a compact design and HD-quality video. Ideal for commercial and residential use, it features a vandal-resistant exterior casing and Power over Ethernet (PoE) capabilities.



4MP Indoor/Outdoor Varifocal Turret Camera

This varifocal lens camera can remotely widen and narrow its view field without compromising quality. Featuring intelligent analytics for object detection and Alarm.com Business Activity Analytics tracking, it supports 24/7 recording to both an onboard microSD card and commercial-grade Stream Video Recorder.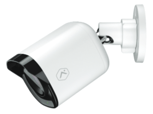 4MP Indoor/Outdoor Varifocal Bullet Camera
With its adjustable ball joint mount and motorized varifocal lens, this PoE bullet camera offers flexible installation, indoor/outdoor settings, and Alarm.com Business Activity Analytics.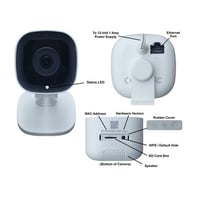 This camera's wide view field, night vision and high dynamic range (HDR) round out its security features during daylight and evening hours. It also boasts two-way audio and video analytics.
Security cameras with smart motion detection can reduce false notifications and alerts, whether you're home or away.
Outdoor Wi-Fi Camera 1080P

High-quality recording and maximum 1920x1080 picture resolution are this camera's best features. Image adjustments include brightness, contrast, saturation, and exposure.




The most recent addition to the Alarm.com Design Studio Series line, this camera boasts complete doorway area viewing and two-way audio. Adding video analytics can also lessen false notifications and rapid motion detection.
Easy Motion Detection Implementation
General Security's partnership with Alarm.com provides easy motion detection implementation for your current or new security camera system.
---
General Security provides a complete line of home security cameras featuring Alarm.com motion detection and other useful capabilities, such as video analytics and geofencing. Request a free quote from us today.